Adoption Forums®
Welcome to the Forums.
Register
If this is your first visit, be sure to check out the FAQ. You may have to register before you can post or search: click here to proceed. To start viewing messages, select a forum below that you would like to view or click View All of Todays Posts.
| | |
| --- | --- |
| Forum Categories | |
| | |
06-13-2011, 12:17 PM
Junior Member

Join Date: May 2011

Posts: 1

Total Points: 5,203.45

Donate
We have to be debt free to adopt?!
---
The agency that we were interested in using (we havenít started the process yet, officially) just told me that due to our debt and lack of assets, we wonít be able to adopt from Korea afterall. But, I have read tons of stories of people who had debt and adopted, and people who rent and have adopted. Iím confused. Is this an agency standard, or a Korea standard? I mean, in this economy, everyone has debt. But my husband and I both work full time, we have two biological children whose needs are more than met, and we meet all the criteria listed. Nowhere that I can find is there a written criteria for debt/assets for Korea. The woman I have been speaking with told me that we would have to pay down all of our debt and be debt free before we can be considered, and that sounds absurd to me! I donít know anyone without debt. Do they run your credit report during the home study? Is there a way around this or another avenue we can look into? Iím very confused because what she is telling me is different from everything else I have read. For anyone who has already been approved, did you have debt and was it a problem? Thanks!
International Adoption Information

Stanislav (15)

is awaiting adoption
06-13-2011, 12:57 PM
Member

Join Date: Jan 2010

Posts: 90

Total Points: 1,891.55

Donate
They do weigh your debt and obligations against your income and assets but I haven't seen anybody say that they had to be debt free. I'm in no way debt free.

I think they usually just want to make sure that you can #1 - afford to care for another child. #2 - afford to pay the adoption fees and expenses.

I would look elsewhere. Good luck.
06-13-2011, 01:21 PM
Just a member

Join Date: Sep 2003

Posts: 16,741

Total Points: 50,963,802,176,259.13

Donate
While they do factor in your debt ratio to income etc., I don't think that means you have to be debt free. If that were true then anyone paying a mortgage would be disqualified.
I would contact a different agency for a 2nd opinion. You might also check here
South Korea Adoption - International, Agencies, Programs, Information, Costs -
to see if any of the information there pertains.
I did check out the info on 2 different agency websites with Korea programs and neither said anything about "no debt".
06-13-2011, 03:40 PM
#1, there are lots of people in this world who are debt free and the economy has little to do with it.

#2, many agencies have different/stricter rules than the actual country. some states have stricter rules than the agency, and some social workers interpret the rules differently than the agency does.

If you don't like the answer you are getting, first find out if it is a country rule. It does not sound like it is. Second, find out if this is an agency rule, a state rule, or a social worker preference.

Some social workers would look at a particular family's income, debt and living expenses/budget and determine that they cannot afford another child, while another social worker might look at the same info and see where the family could do it.
06-13-2011, 03:43 PM
also, each family's financial porfolio is different. Family A may indeed have "debt" to the tune of $100,000 including a mortgage and car loan, but they also might have assets well over that amount to give them a positive net worth.

Family B might have minimal debt it seems, but have very few assets to the point that they have a much lower net worth than Family A who has $100,000 in debt.

China has a minimum net worth requirement. This means that a family can have lots of debt, but they also must have much more in assets to offset that debt by $80,000.

A real life example: we have a minivan that is worth about $10,000. we owe $3000 on the loan. So we have a positive net worth on the van of $7000 even though we do have debt on this van. Our neighbor just bought a $40,000 Suburban that they also financed. It is worth about $38,000 now since cars depreciate when you drive them off the lot, but they owe the $40,000 still. So they have a $2000 negative worth on their car. Both families have debt, but one family has a positive net value in this particular area. Same with mortgages on homes that have appreciated or depreciated. Not all debt is the same.
---
Last edited by karla-k : 06-13-2011 at

03:51 PM

.
06-13-2011, 06:29 PM
Member

Join Date: Aug 2008

Posts: 99

Total Points: 7,151.93

Donate
DEBT FREE? LOL ... I think it is not a requirement at all. Must be an agency thing. Try another agency. I do know you need to have one person who has income of at least a certain amount for a US Govt form. But its not very high. its to prove you can support a child. i864 or something
__________________
Mommy to 3 darling sons hoping for 1 darling daughter
Jan 11, 2010- Began Adoption Process
April 5, 2010-Sent Completed Application to Agency
May 12, 2010-Homestudy Began July 29,2010 - HSTK
March 17, 2011-i600a approved.
March 30, 2011- referral! beautiful darling daughter dob: 8.21.10 April 4,2011 - accepted referral Aprril 15, 2011-docs forwarded to Korea
April 28, 2011- i600 submitted May 18, 2011 -i600/i797 approval
? NVC Out ? NVC In ?EP Submitted ?EP Aproval ?VI
?TC
?Gotcha Day!
06-14-2011, 07:17 AM
Senior Member

Join Date: Aug 2002

Posts: 4,766

Total Points: 87,065.50

Donate
No one expects you to be debt-free. But most agencies do look at how much debt you have in relation to your income and assets, when deciding whether you can afford to parent a/another child. Some agencies pull credit reports, though others do not.

Sharon
__________________
Sharon, age 68
"65 is the new 45!"
Mom to Rebecca
born 10/18/95
adopted 5/5/97
Xiamen (Fujian prov.), China
06-14-2011, 07:49 AM
I wonder if the lady meant that after you paid off all of your debt, you would be in a positive net worth position and they would consider you?

I think there is more to your financial picture that needs to be considered than if you have "some debt."

I call around to some other agencies. It is hard with Korea though, as you are limited to agencies that work in your state, so you might not have many to pick from.
06-26-2011, 06:40 PM
Senior Member

Join Date: Oct 2006

Posts: 933

Total Points: 101,944.36

Donate
We did have to show our net worth. I don't remember what the minimum acceptable level was, but I do remember having to gather paperwork that showed our assets and debts.

We do happen to be debt free, with the exception of our home mortgage, but it was about our net worth, not being debt free that they were interested in.

Not sure if it's an agency thing or a Korea thing.
__________________
LJR
Mom to 3!
10/13/06 - Application for Guatemala
12/04/06 - Zack's referral, DOB 8/15/06
07/05/07 - Visit trip. Found out I was pregnant the same day we met Zack.
02/23/08 - Surprise bio son, Clayton born!
04/15/08 - Zack finally home forever!
Here we go again!
12/24/09 - Preapp for Korea
01/21/10 - Formal app
03/12/10 - Homestudy appt
03/26/10 - Homestudy appt
04/03/10 - Homestudy appt
04/27/10 - Homestudy finished and all references in
05/20/10 - Finally HSTK
06/10/10 - Fingerprint appt
06/25/10 - I171H
08/21/10 - Referral
08/25/10 - Accept referral of Delaney, DOB 4/10/10
10/07/10 - Legals
11/08/10 - County approval. I600 sent.
12/03/10 - I600 approval
12/13/10 - NVC out
12/16/10 - travel call
01/08/11 - Delaney home forever!
09/14/11 - Finalization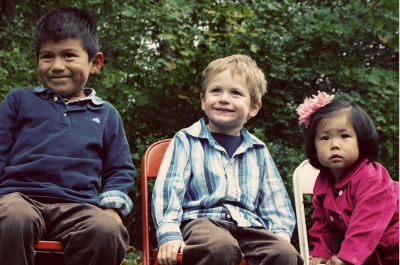 07-06-2011, 06:45 PM
The Authoress

Join Date: Oct 2010

Posts: 23

Total Points: 7,680.92

Donate
We're debt-free but our mortgage, and as another poster said, it has little to do with the economy. It has a lot to do with making our pennies squeal. We're hoping to cash flow this entire adoption, but we'll see how expensive it gets. We just got our pre-application approved, and we'll be submitting an official application this fall.
07-09-2011, 06:59 PM
Junior Member

Join Date: Jan 2008

Posts: 13

Total Points: 1,111.85

Donate
I did not experience any issues related to "debt" with our adoption. We both work full time, have decent jobs, owe money for a mortgage and student loans but have little credit card debt. We had to provide tax returns, etc. proving our net worth. Try somewhere else, debt free seems unrealistic.

Good luck to you and your family!
Currently Active Users Viewing This Thread: 1

(0 members and 1 guests)
Posting Rules

You may not post new threads

You may not post replies

You may not post attachments

You may not edit your posts

---

HTML code is Off

---

Points Per Thread View: 1.00

Points Per Thread: 15.00

Points Per Reply: 5.00
All times are GMT -7. The time now is
08:45 AM
.